Nagios Monitoring Handbook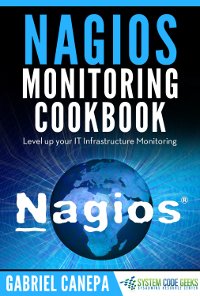 About the author

Gabriel Canepa is a Linux Foundation Certified System Administrator (LFCS-1500-0576-0100) and web developer from Villa Mercedes, San Luis, Argentina.

He works for a worldwide leading consumer product company and takes great pleasure in using FOSS tools to increase productivity in all areas of his daily work.

When he's not typing commands or writing code or articles, he enjoys telling bedtime stories with his wife to his two little daughters and playing with them, the great pleasure of his life.

Nagios, now known as Nagios Core, is a free and open source computer-software application that monitors systems, networks and infrastructure. Nagios offers monitoring and alerting services for servers, switches, applications and services. It alerts users when things go wrong and alerts them a second time when the problem has been resolved.

Nagios was originally designed to run under Linux, but it also runs well on other Unix variants. It is free software licensed under the terms of the GNU General Public License version 2 as published by the Free Software Foundation.

In this ebook, we provide a compilation of Nagios tutorials that will help you set up your own monitoring infrastructure. We cover a wide range of topics, from installation and configuration, to plugins and NRPE. With our straightforward tutorials, you will be able to get your own projects up and running in minimum time.

Nagios Monitoring Handbook includes:

Core Installation and Configuration on Ubuntu Server
Using plugins and NRPE to check network services
 Monitoring through SNMP
Alternatives: Centreon and Icinga

SCG eBooks are professionally designed, downloadable collections of popular SCG content – articles, interviews, presentations, and research – covering the latest software development technologies, trends, and topics.